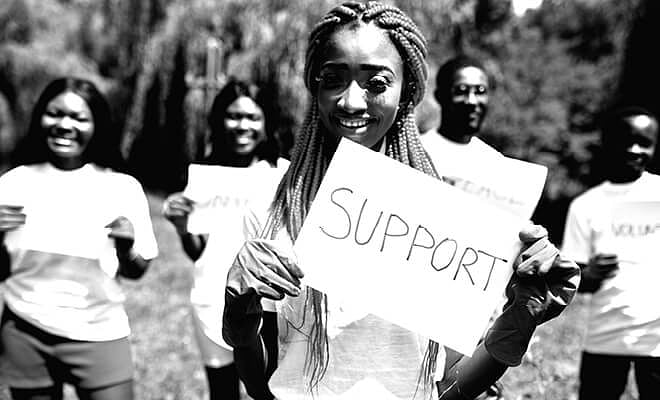 10 ways to give back to the youth
Tuesday, 15 June 2021
We understand that you want to help our future leaders, but you might not know exactly where to start. This is where you can rely on us.
Over the years, we have seen a growing need for individuals and companies across South Africa to support the youth in their local communities. That's why we have developed a reliable CSI strategy which involves contributing towards the social development of the Diepsloot community. By enriching the lives of all community members through food provision, skills development and education, we can help the youth rise to success. Here are a few of the initiatives we are involved in as well as some ideas to help you give back to the youth.
The Food Security Programme
Children and the larger community need nourishment to grow and learn. They have come to rely on our grant to support fifteen established grow zones and the creches that are associated with them.
The OLICO Foundation
As a partner of the OLICO foundation, we help them support the growth of their Maths clubs in Diepsloot. Currently we work with over XXX Math Club learners, but the plan is to double the number of clubs from XX to XX. [AG1] [LM2]
The LEAP Grant
This initiative helps to facilitate study workshops, provide exam paper videos, mobile whiteboards and science labs for students preparing for their matric exams. The focus is on Maths and Science as these are the foundation of the most sought-after professions today.
The Diepsloot Foundation
We hope to enrich the lives of willing and talented community members by upskilling them with tech-based training. That's why this foundation's grant supports the continuation of the ABET (Accreditation Board for Engineering and Technology) programme and the accredited skills training courses with the FP&M SETA. As a non-governmental organisation, ABET accredits post-secondary education programmes in applied and natural science, computing and engineering technology.
You can also help give back to the youth and truly make a difference by doing the following:
Helping with counselling
Tweens, teens and young adults often just need someone to come to for advice and help. You can make a difference by volunteering your time to help counsel them.
Becoming a mentor
So many of our youth don't have positive role models to look up to. By mentoring a child, you can help them deal with daily events and teach them valuable life lessons.
Tutoring learners
By volunteering your time to tutor grade 11 and 12 learners, you can help them raise their marks. With higher grades, these learners can go onto tertiary education and excel in the careers of their dreams.
Sharing your skills
Everyone has a different skillset. By sharing yours, you can impact the youth by imparting your knowledge on them. Whether it's a sport, woodwork, tiling, welding, plumbing, electrics, sewing, knitting, crocheting or any other skill, your skill could change their life.
Reading to children
There are many pre-schools across the country that would benefit from your time. One of the things you can do is read to the children. This simple task supports cognitive development, improves language sills, helps prepare them for academic success and improves their imagination and creativity.
Donating money
It goes without saying that monetary donations are always required. If you or your company are in a position to donate money, choose a cause that's close to your heart.
Helping to prepare meals
No child can concentrate on their schoolwork when they are hungry. You can help by volunteering your time to help prepare meals. There are many organisations around South Africa that assist children with daily meals. Find one close to you and start making a difference.
Donating goods
From clothes, food and books to shoes and toys, you can donate any type of second-hand goods to various children centres. Whether they are given to the children or sold to cover monthly costs, every little bit helps.
Caring for babies
Most organisations that take care of babies needs help. Whether it's to feed them, change them or play with them, volunteers are always appreciated.
If you want to find out how you can help the youth, visit forgood. They connect people, who want to make a difference, to causes that need their help. Start volunteering or donating today and watch the youth of tomorrow shine.
---