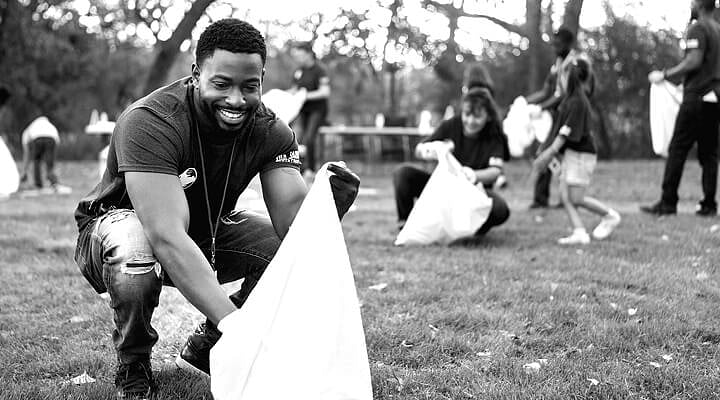 10 Ways to micro-volunteer
Thursday, 6 May 2021
Making a big difference to the world around us can be a daunting thought. It can conjure up images of walking barefoot across Africa or swimming across the English Channel in a bid to raise money for worthy charities. Although commendable, this isn't something everyone has the time or money to do. This is where the concept of micro-volunteering comes in. Instead of committing to one big initiative, you can volunteer for shorter periods of time or make smaller donations, when it's convenient for you. In this way, you can let the world experience your kindness and generosity through the little things you do, more often.
To help you get started, we've put together a list of micro-volunteering ideas:
Pick up litter

Helping to keep the environment clean is critical to keeping our world secure for future generations. It can be as simple as picking up litter whenever you're out. This could be on your daily jog, walk or while you and your family are on the beach or at the park. You don't have to go out of your way to make a difference. Just incorporate this into your day and you'll soon see the changes you can make.

Sign a petition

There are many petitions online for a variety of worthy causes. From helping animals to feeding the hungry, your signature could make a world of difference. All it takes is a second or two for you to add your name to the list. It could mean getting a vital bill passed or ensuring that underprivileged people have access to food.

Spend time working at a stand

Even though Covid-19 has shut down many events, there are still various markets operating (albeit on a smaller scale). Give of your time and volunteer to work at a stand, at a market or mall. Not only will you get to meet different people and see new faces, but you'll be helping a small business sell their goods.

Start a fundraiser at work

Do you have a cause that you're passionate about but don't have the time to get as involved in as you'd like? Then why not start a fundraiser at work or your local school? You could sell cupcakes or even raffle tickets. By making it easy and affordable for people to donate, you're guaranteed to get a lot of interest and raise money for your charity. Many organisations also have their own employee volunteering programmes you can participate in.

Participate in a sponsored race for a Non-Profit Organisation

Whether you're sporty or not, these events are usually fun for everyone. Get your whole family involved. You'll enjoy a day out in the sun together, getting exercise and helping to support a non-profit organisation. This is also a great way to teach your children about the importance of helping those less fortunate.

Share donation opportunities on social media

Use social media for good. Share worthy causes and help others raise money by getting the people you know involved. The more people who share these posts, the more money can be raised. And more money can change the lives of those who desperately need it.

Donate previously loved goods, for resale

If you have items that are in a decent condition, donate them. SPCA shops, thrift stores or homeless shelters would welcome all your previously loved things. They can resell them and in turn give back to the relevant causes. It is a sustainable way to make a difference.

Donate life-saving blood

There is always a shortage of blood in South Africa. You can assist by donating blood regularly. There are blood donation centres all over the country. To find the one closest to you, visit https://sanbs.org.za/donor-centres/.

Volunteer your skills

There are many small businesses who need help to get up and running but don't always have the funds or skills required to do so. Volunteering your skills could help them succeed. From writing or design to web development and accounting experience, you can give entrepreneurs the much-needed assistance they need to get their business noticed.

Prepare and distribute sandwiches

Use what you already have in your home to make a difference. Get your children involved in helping others by making sandwiches together. Then hand them out to homeless people or go to a shelter and donate them.
Helping others in these small ways can make a big difference. If we all take many small but meaningful actions, we can all experience a positive change in the world around us. Remember that due to COVID-19, we must adhere to regulations. So, keep safe while helping others.
---
How we help ensure basic human rights are met