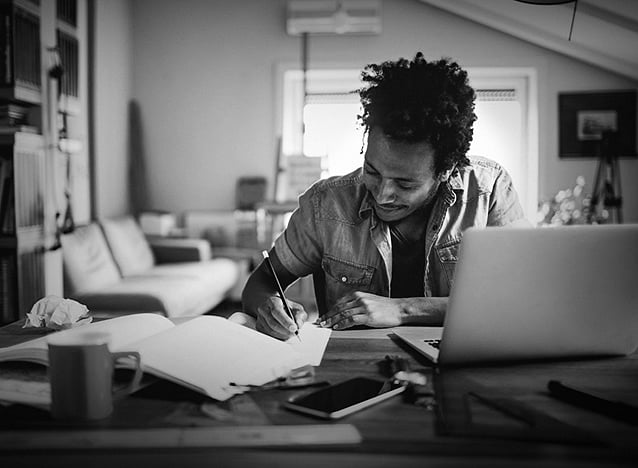 Learning under lockdown
Wednesday, 5 August 2020
Benjamin Franklin said: "An investment in knowledge always pays the best interest." We couldn't agree more. Now, thanks to technology, we can access knowledge and information at the tap of a button. We look at the benefits of online learning, how to maximise your time, ways to stay motivated and some of the best platforms to help you get started.
Benefits of online learning
Your finances will thank you
With the downturn of the South African economy due to COVID-19, it may seem that learning is a luxury you can't afford. The good news is that online learning is generally more affordable than traditional learning. Depending on your area of interest, there are also plenty of free online courses available.
Learn anything from anywhere
If you're interested in a very specific topic, you're in luck because you can learn anything from pastry making to neuroscience, online. You may also have access to specialised courses which aren't necessarily available to campus students or at certain branches of an institution.
Enjoy ultimate flexibility
Since there is generally no fixed schedule of classes, you can structure your learning around your commitments and lifestyle. You could study a module during your work lunch break, complete an assessment after putting the kids to bed and schedule the most convenient time to have a Zoom call with a tutor.
Benefit from self-paced learning
Self-paced learning offers the most flexibility for online learning, as it allows you to set your own schedule instead of adhering to a rigid structure. Because there is generally no set structure or time pressure both students have optimal chance of absorbing the material and successfully completing the task – each at his/her own pace.1
Many of us have had to adjust to working with our colleagues remotely – showing that we can build and maintain positive working relationships online. The same goes for building a network of classmates, lecturers and tutors. Whether they live overseas or in the same city as you, they remain a Zoom call or email away.
Maximise your time
Here are some ways to make the most of the time you spend learning online.2
Schedule dedicated time for learning and plan ahead – perhaps create a calendar to map out exactly what you'll do and when.
Avoid multi-tasking – ensure that you can focus completely in the time you set aside for learning.
Have a virtual workspace/office – whether it's a dedicated space in your home or a quiet corner of a coffee shop, make sure your space is conducive to learning. Important considerations include fast internet, good lighting and a comfortable chair.
Ways to stay motivated
Once you've started an online course, how do you ensure that you remain motivated to the end – especially when it feels like life is getting in the way? Here are a few practical tips to keep in mind for staying motivated.3
Remember why you started – whether you're pursuing a lifelong passion or furthering your career, remind yourself of why you set out on your learning journey.
Develop realistic goals – your goals can be ambitious but should also be realistic and achievable.
Visualise the result – see yourself starting a new job, getting that promotion, developing that website or launching that blog.
Reward yourself along the way – as Eisenberg suggests: "celebrate the little achievements."
The best platforms to help you get started
If you're not sure where to start, we've researched some of the best platformsfor online learning. Here's what we found:4
If you had any doubts about online learning, we trust that we have put them to rest, and inspired you to harness the power of learning online, in lockdown and beyond.
Disclaimer: this article is provided for informational purposes only.
---
A Sporting Chance – A View on our Sport in the 'New Normal'