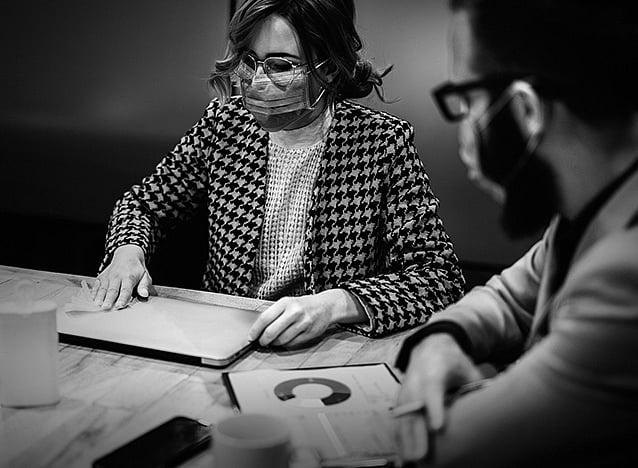 Shape Shifters – adapting business to changing times
Wednesday, 17 June 2020
We applaud the ingenuity of South Africa's small businesses, who have changed their business models to adapt to current times. These Shape Shifters quickly recognised the need to shift their business approach to survive and thrive in lockdown – making a positive impact on the economy, the lives of their employees, and in many cases, the wider community. Here's a look at who they are and how they shifted:
Granadilla
Usually a purveyor of quirky swimwear, Granadilla came to the sobering realiation that their online trade would suffer immensely in the shadow of the Covid-19 pandemic and the resulting economic recession.
It was with that in mind that founders Joshua Meltz and Adam Duxbury made the decision to change the direction and nature of the Granadilla business model. With swimwear sales set aside, they launched Granadilla Eats – a business that now sells packaged produce, and business is booming.
Although their business changed dramatically, they were able to achieve this shift with minimal adjustments by re-aligning their team's mentality, and by using the infrastructure they already had in place, as an established online retailer.
SoupaGroup
The SoupaGroup – a cooperative of breweries, civil society groups and volunteers in the Western Cape – has found a way to use brewing equipment to help feed the hungry.
In response to the hunger crisis facing many of Cape Town's communities during the Covid-19 pandemic and lockdown, the Woodstock Brewery, Drifter Brewing Company, Stellenbosch Brewery and the District Six Working Committee – along with a host of eager volunteers – created a non-profit cooperative that produces and distributes soup.
Quite brilliantly, though, they've done it by using equipment rendered useless to them at the start of the lockdown - the large brewing pots usually reserved for alcoholic beverages. These have been adapted to yield up to 3 000 litres of soup a day, which translates to around 9 000 hungry people fed across 10 communities in Cape Town.
Their ultimate aim – even as some restrictions in alcohol sales and distribution lift – is to get more people involved and scale up as much as possible.
Disoufeng
Famous local pub and party spot in Soweto called Disoufeng (which means 'chill' or couch/sofa), opened their doors to the Meadowlands Zone 10 community, and hosted a soup drive for more than 200 families.
At a time when most pubs and clubs are facing significant challenges, this local hangout has made the change to not only keep its doors open, but to open them to the many in the surrounding area that are in desperate need of food.
Distell
Another business in the alcohol industry using its component stocks to create an entirely different product, is wine and spirits manufacturer, Distell.
By using what was available to them – alcohol – they shifted their model toward furnishing a different need. The need for alcohol-based hand sanitiser.
With Covid-19 ushering in a new demand, Distell recognised a way to utilise the stocks they already had in abundance. The distillery produced and bottled 165 000 litres of hand sanitiser, of which 105 000 litres have been distributed to communities who are short, or lacking, in supply.
Ubuntu Beds
When hotels and B&Bs stood empty, Ubuntu Beds shifted its business model to accommodate those on the frontline through an initiative that unites hospitality businesses.
Kim Whitaker, a hospitality broker, pioneered the shift, which looks to provide healthcare workers with safe and sterile accommodation throughout the lockdown period.
Payflex
Payflex, a 'buy now pay later' fintech company, adjusted their service offering from the commercial toward the more philanthropic, with a payment platform that lets you donate in instalments to the Solidarity Fund.
The idea looks to provide a more flexible option to those wanting to help, and accommodates different budgets, while doing so.
By extending their platform, they are shifting their business and making a difference.
Bella Bathrooms
The bathroom business is still booming for Bella Bathrooms and Tiles thanks to a savvy digital transformation shift.
The bathroom company is providing a ground-breaking new décor service - virtual consultations via their app.
The app accesses the homeowner's cell phone camera (with the relevant permissions, of course), and allows them to enjoy a consultation done virtually and remotely.
Epione Healthcare
COVID-19 symptom tracking is seamlessly enabled by Epione. This healthcare technology platform shifted their digital capability to include a pre-screening symptom checker.
With it, the enterprise is now able to allow patients to monitor and evaluate any symptoms they may have – remotely, and safely – and entirely through Epione's own existing applications.
These are just a few of the many organisations who, through business-savvy, wit and creativity, have managed to adapt what they do, to not only stay afloat, but provide much needed support to communities in crisis.
---
Auto & General celebrates the spirit of Mandela Month