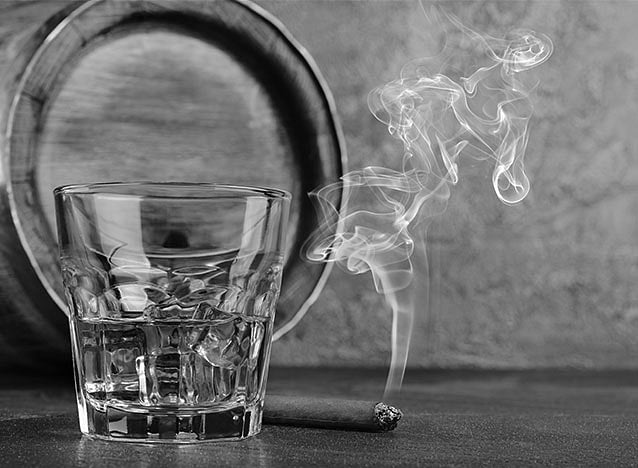 How Smoking & Alcohol Leads to Osteoporosis
Thursday, 26 November 2020
Osteoporosis is the most common age-related bone disease worldwide. It was found that around 33% of women and 20% of men are susceptible to increased bone fragility and osteoporotic bone fractures. Recent research has shown that smoking and regularly drinking large amounts of alcohol contribute greatly towards the development of osteoporosis later in life.
A number of genetic and lifestyle factors contribute to osteoporosis. Females, older than age 65, who are small-boned, Caucasians, Asians, women who experience early menopause, people who live a sedentary lifestyle, or people deficient in nutrients – are more susceptible to osteoporosis.
The effects of smoking on osteoporosis
Smoking causes loss of bone density and increases the risk of developing osteoporosis. Even smoking one cigarette a day can slow down the production of bone-forming cells; reduce blood flow to the bones; impair calcium absorption, and reduce the efficacy of estrogen replacement therapy.
It was found that decreases in hip fractures correlated with a 60% decrease in smoking and a 36% drop in drinking. These findings were in conjunction with improved osteoporosis treatment over the 40-year period of the research. Meanwhile, other potential risk factors, such as obesity and experiencing the early onset of menopause, were ruled out.
Smoking is also associated with lower bone mineral density and decreased overall bone health. Therefore, smokers have a higher risk of fractures and sprains and also take much longer to heal from them. The good news is that the effects of smoking on bone health are reversible by giving the habit up.
The effects of drinking on osteoporosis
Excessive drinking may also dramatically compromise bone health and increase the risk of osteoporosis. The effects of heavy drinking are most harmful in early life, particularly during adolescence and young adulthood, where alcohol abuse impacts growth and development.
Heavy drinking also negatively affects bone-forming cells called osteoblasts, which help to slow down bone turnover. Long-term heavy drinking impacts bone mechanics, elasticity, load-bearing capacity, and toughness. Unlike with smoking, refraining from drinking does not reverse its detrimental effects.
Other lifestyle factors
Despite the fact that bones are at their strongest and most dense at the age of 35, it's important to focus on bone health throughout one's life.
Diet and nutrition – A healthy, balanced diet that includes calcium-rich foods is a positive starting point. While whole milk and dairy products are considered calcium-rich food, there are many other foods that are also high in calcium, including dark leafy green vegetables, peas and beans, seeds and nuts, tofu, pilchards and sardines.
Processed foods – Some processed foods are fortified with calcium, especially cereals and bread, but it's best to get your intake from a diverse number of food groups with naturally-occurring calcium. Too much salt has the opposite effect of a balanced, calcium-rich diet, as it excretes calcium from the body, and most processed foods tend to have a high sodium content.
Caffeine – Excessive caffeine consumption is known to leach calcium from the bones.
Vitamin D – A vital component of a balanced diet, as it aids the absorption of calcium from the gastrointestinal tract and the kidneys to prevent it from being excreted. Vitamin D can also be obtained from the sun's UVB rays.
Exercise – Both diet and regular exercise are equally important. Walking, jogging, running, hiking, dancing, climbing stairs, and weight-lifting work both muscles and bones. Research has found that high-intensity physical activity in early life can help to prevent osteoporosis later in life, as it helps to maximise peak hip strength. Hip strength is a marker of possible fracture risk.
Prevention
Without sufficient calcium intake, the body strips the bones of their calcium, as it is unable to produce its own. Your doctor can recommend the daily required dosage of calcium, whether it be from food, beverages or supplements, based on family medical history and personal circumstances.
Regular bone density tests, particularly for postmenopausal women younger than 65 and women over 65 years of age is recommended. While certain genetic factors might be unavoidable, you can do your part to prevent the onset of osteoporosis. Remember that staying fit and healthy is also the best thing for your pocket even when it comes to taking out insurance cover. Learn more about Auto & General's Terminal Insurance cover.
Disclaimer: This content is for informational, educational, or entertainment purposes only. We do not make any warranties about the completeness, reliability, and accuracy of the content. The views and opinions are those of the author and not necessarily those of the company.
---
Buying a Car During and Post-Pandemic | Auto & General