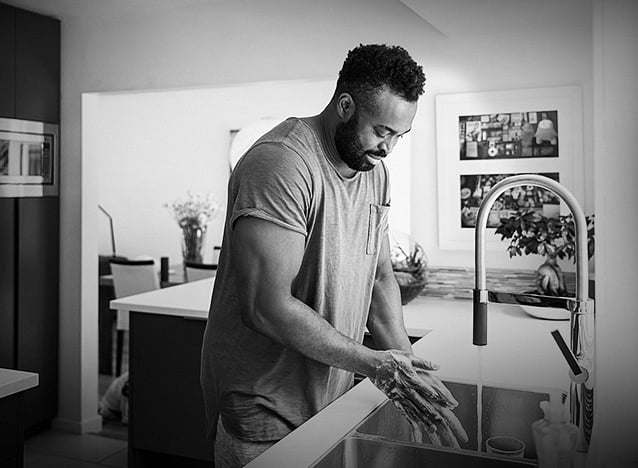 Preventative healthcare during COVID-19
Friday, 7 August 2020
It's hard enough preventing colds and flus in winter, but with the added threat of COVID-19, the need for preventative healthcare is more important than ever. If we can look after our overall health and improve our immune systems, as well as follow vital hygiene protocols, we can keep ourselves and our loved ones safe, not only from COVID-19 but also the common cold.
Even if you take all the necessary precautions, however, it's still advisable to have Dread Disease Cover in place, should you fall victim to a life-threatening illness.
Knowing that you're covered and putting the right measures in place to prevent infection, will give you and your loved ones peace of mind, during COVID-19 and beyond. Below are some practical guidelines for maintaining a healthy body and mind.
COVID-19 preventative measures – these have become part and parcel of our daily lives, so start with the basics as per the South African COVID-19 Online Resources and News Portal1:
Wash your hands regularly with soap or an alcohol-based hand sanitiser.
Avoid touching your eyes, nose, and mouth with unwashed hands.
Avoid close contact with people who are sick.
Cover your cough or sneeze with a flexed elbow or a tissue, then throw the tissue in the bin.
Clean and disinfect frequently touched objects and surfaces.
These measures in addition to wearing a face mask in public, will go a long way to preventing infection.
Get your body moving – even moderate exercise is beneficial for your immune system, which defends your body against infections. In fact, exercise may actually prevent colds according to one study where participants did regular exercise of about 20 minutes.

The result? Feeling fit and remaining active reduced the chance of a cold by close to 50%.2 With access to live online classes, recorded classes on YouTube and of course, the fact that we can now go for walks and runs, gives us plenty opportunity to gain and maintain fitness levels.
Up your fruit and vegetable intake – from fruit-packed smoothies to vegetable-packed soups and stews, there are plenty of ways to get in your five-a-day quota. Specific cold-fighting vegetables, rich in beta-carotene, include sweet potatoes, beetroot and butternut. Our bodies convert beta-carotene to vitamin A, which is critical to defend against infection as it keeps the mucosal linings in our nose and lungs healthy and robust. 3
Get the most out of vitamin C – we all tend to grab a glass of orange juice or a bunch of vitamin C tablets when we feel a cold coming on, but does this really make a difference? According to experts, if you want to enjoy the benefits of vitamin C, you need to consume it daily – not just at the onset of a cold. According to one expert, it's better to get your vitamin C from food than supplements as food includes other important nutrients. Plus, eating your five servings of fruits and vegetables daily, is beneficial to your overall health and ensures you get enough vitamin C.4 Foods high in vitamin C include peppers, peas, broccoli, chard, spinach, kiwi fruit and citrus fruits.
Take managing stress seriously – with job losses, pay cuts and the health threat of COVID-19, stress levels for many of us have increased. Since stress suppresses the immune system – and a strong immune system is crucial for fighting off infection – managing stress should be a priority. In fact, according to one study, you may be twice as likely to get sick if you're stressed. 5 Some of the ways to reduce stress (like exercise and healthy eating) have already been covered but there are many others including meditation and yoga.
Bring your mental health into focus – it's not just our bodies but our minds that require our attention at this time. In addition to reducing stress, there are many other ways we can nurture our mental health. With COVID-19 as an overarching theme in our lives, it's crucial that we are discerning about the related content we consume. Here are some helpful questions to ask yourself to avoid unnecessary anxiety6:

Is this information from a legitimate source? To ensure information is as accurate as possible, rely on well-known sources like the World Health Organisation (WHO) and the South African COVID-19 Online Resources and News Portal.
Am I consuming media excessively? COVID-19 messaging is dominant in both mass and social media. From constant news and social media updates, it's difficult to escape the constant bombardment of COVID-19 communication. To practically reduce the accompanying stress, consider switching off automatic notifications and limiting the news you watch, read or listen to. This will give you more time and energy to focus on the things you can control.
Am I actually looking after myself? Self-care is not selfish, in fact it's imperative because if we're not in a good mental and physical state, we can't look after those we love. With this in mind, there are many ways that you can introduce or increase self-care in your life, many of which have already been covered – from healthy eating and exercising to meditation and yoga.
Am I using my support network? While we can't be physically together as much as we'd like, take advantage of opportunities we can – like walking in small groups. There are also plenty of opportunities to connect online and of course, to lean on others in our own homes. Often it helps just to chat through the things that are worrying you, from the concerns around your family's health and safety to financial worries. Sharing the burden of what's on your mind can provide a sense of comfort and stability.
Am I talking to my children about COVID-19? Children are not immune to the hysteria around COVID-19. Encourage them to talk about their fears and concerns, and respond in a caring, attentive and supportive way. Share with them how you deal with your stress related to the virus and equip them with healthy and proactive ways to manage their own. With children slowly going back to school, it's crucial that they can have an open and ongoing conversation with you about their changing reality.
Ultimately prevention is better than cure, in any instance. Making a conscious decision to prioritise preventative healthcare is thus crucial for ensuring a healthier winter ahead.
---