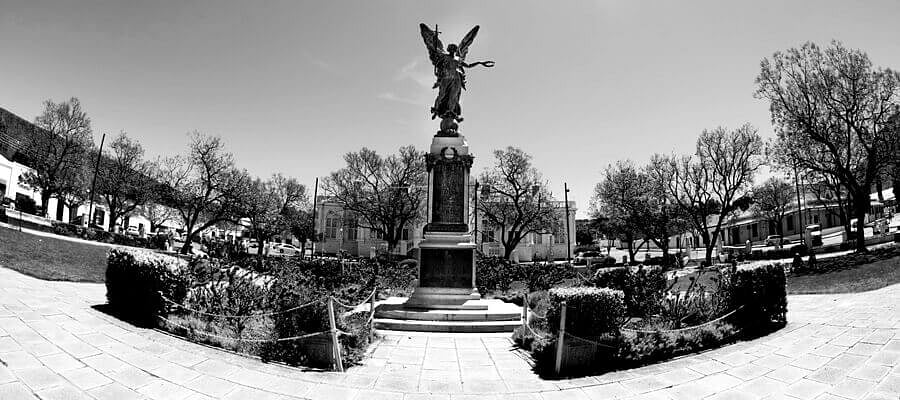 Here are our top picks for last minute family travel destinations
Thursday, 14 December 2017
"We should come home from adventures, and perils, and discoveries every day with new experience and character. "
-Henry David Thoreau

Have you experienced some of South Africa's amazing holiday destinations yet?


Living in a diverse country such as South Africa provides us with the opportunity to experience different cultures and learn of the history of the numerous monuments that have shaped our country as we know it today. But, in order to learn and fully immerse yourself in the history of our people, you have to leave the comfort of your home and travel to the historical landmarks that distinguish our country from the rest of the world.
Not sure where to start? Here's a handy list of monuments, statues and memorial sites that commemorate a notable person or event that has contributed to the colourful history of our beautiful country.


1. Victory peace angel – Graaff-Reinet
Graaff-Reinet, the fourth-oldest town in South Africa, is such a fascinating town with a rich history and wonderful architecture. Three months after the end of World War 1, a public meeting was called by the Mayor, Mr H Urquhart, at which it was decided to erect a monument on the most prominent site in town, in honour of the gallant Graaff-Reinet men who had lost their lives in the war.


2. Castle of Good Hope – Cape Town
This pentagonal fortress is known as the oldest surviving building in South Africa that's still in use. Built between 1666 and 1679, the Castle of Good Hope has been the centre of civilian, political and military life at the Cape. It currently represents one of the best preserved 17th century DEIC architecture on earth.


3. The Pig & Whistle – Bathurst
Established in 1832, the Pig & Whistle is the oldest continuously licensed pub in South Africa. With 10 beautifully restored rooms and a blend of historic ambiance and modern facilities, a stay at this hidden gem guarantees great food, incredible accommodation and a vibe like no other. The hotel is also comfortable walking distance to all Bathurst's National Monuments and Waters Meeting Nature Reserve.


4. The Opera House – Port Elizabeth
Built in 1892, the Opera House in Port Elizabeth preceded the railway line by two years and it was proclaimed a national monument in 1980. Celebrating its 125th year in 2017, the Opera House wants to take its city to the world by telling Eastern Cape stories with equal skill and expertise close to anywhere else in the world.
With 2018 right at our doorsteps, we at Auto & General look forward to experiencing yet another fulfilling year with our clients. As exciting as the holiday season is, we encourage you to take the necessary precautions to protect your valuables during this festive period, because anything can happen at any time. Click here to find out how our various product offerings can help keep your assets safe. If you would like to get home insurance cover, simply request a quote online or give us a call on 0861 00 02 09.


Information obtained from:
War Memorial Attractions
Fun facts about the castle of Good Hope
Pig and Whistle Inn

---
Breaking the mould: How to step out of your comfort zone