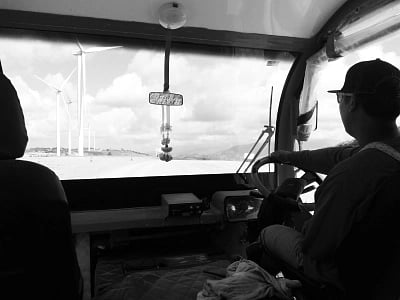 What type of truck insurance do you need and what's covered?
Monday, 18 July 2022
Whether you own a single truck or you're a fleet operator whose business relies on steady deliveries, trucks are a significant asset, and they require the right kind of protection. Getting truck insurance will shield both you and your business from costly damages when accidents happen. At Auto & General, we can help you find the best truck insurance and shine a light on what trucking business insurance costs.
Why do you need truck insurance?
Trucks help to keep South Africa running and having proper truck insurance is an essential aspect of freight and logistics transport. Without adequate truck insurance, or if a claim is delayed or rejected, your business could find itself in serious financial difficulty. If your truck or part of your fleet is stolen or involved in an accident, would you be able to cover the outright cost of repairs and replacements? Not many could, and this could put your entire business at risk. The right truck insurance would shield you from this kind of financial risk.
They might not always be acknowledged for everything they do, but truck drivers are a major part of the backbone of the South African economy. Trucks and road freight transport deliver more than 80 percent of all goods in the country[1].
There are several dangers that trucks and their drivers face, making proper truck insurance a necessity. Problems with the rail infrastructure means freight on the roads has increased with more dangerous goods, like chemicals, being transported on the road network.
High rates of road accidents, as well as rising crime, also pose an increasing risk to trucks and freight companies. Truck hijacking, for instance, has steadily been increasing in the past few years. According to Statista, truck hijackings increased more than 30 percent between 2009 and 2020, with 1202 truck hijackings registered in South Africa in 2020 [2].
Statistics like this show how important it is to make sure your vehicle is adequately insured, saving you both time and hassle in the long run.
What does truck insurance cover?
There are different types of truck insurance policies available to suit every type of business, from smaller-run enterprises to large-scale fleets. Auto & General understands that every business is unique and that is why we offer a range of trucking insurance policies for our business Insurance clients. The policies suit companies with trucks from 3.5 to 10 tonnes.
These policies include:
Motor Vehicle Only Insurance, which is similar to a normal comprehensive car insurance policy. It protects vehicles against theft, hijacking, accidental damage, third-party liability, windscreen damage, fires and acts of nature like flooding, storms, hail, lightning, heavy winds and earthquakes.

The Motor and All-Risk Vehicle Insurance, which is comprehensive insurance with added cover for all tools and equipment kept in your truck.

Motor and Goods-in-Transit Vehicle Insurance, which is a comprehensive insurance with added goods-in-transit insurance. This covers you from financial loss if the goods you are transporting as lost, damaged or stolen on the road.
Each policy comes with extra benefits like road, medical and business assistance.
Road assistance provides towing trucks all over South Africa in case your truck breaks down and needs to be towed to a repair shop. Storage fees for up to 72 hours are also taken care of.
With medical assistance, drivers are given medical attention if they are involved in an accident. Emergency services are sent for, and drivers are taken to the nearest medical facility for help.
Business assistance has a database of professionals available to help your business if ever you need. These professionals can help with anything like legal advice, help setting up better marketing, fixing IT problems or even advice for submitting tenders.
But there are some things that are not included in truck insurance policies, which we will discuss next.
What does truck insurance not cover?
Truck insurance, which is also known as Heavy Commercial Vehicle insurance, is aimed at trucks from 3.5 to 10 tonnes. Vehicles that are smaller than this would need to be insured under a different type of commercial vehicle insurance. Businesses which have more than one type of vehicle might need to combine different policies to make sure all their motoring assets are protected.
Auto & General has a wide range of insurance policies available for every type of business vehicle including motorcycles, scooters, cars, bakkies, vans, trailers and heavy trucks.
There are three levels of Business Vehicle Insurance. A basic third-party commercial car insurance will cover you if your vehicle is responsible for damage to another person's property.
Third-party, fire and theft insurance will also cover the cost of third-party repairs, as well as against theft or fire damage.
Comprehensive commercial vehicle insurance covers you for almost everything, including accident damage, fire, theft, third-party liability and damage by nature such as flooding, hail and storms. This policy includes goods-in-transit cover, protecting your business if your deliveries are damaged or stolen while being transported.
How does truck insurance work in South Africa?
Now is the time to protect your important trucking assets with the right insurance cover. For a truck insurance quote in South Africa, contact Auto & General today. Our team will be happy to answer any of your questions.
The information in this article is provided for informational purposes only and should not be construed as financial, legal, or medical advice.
---
Everything You Need To Know About Pet Insurance