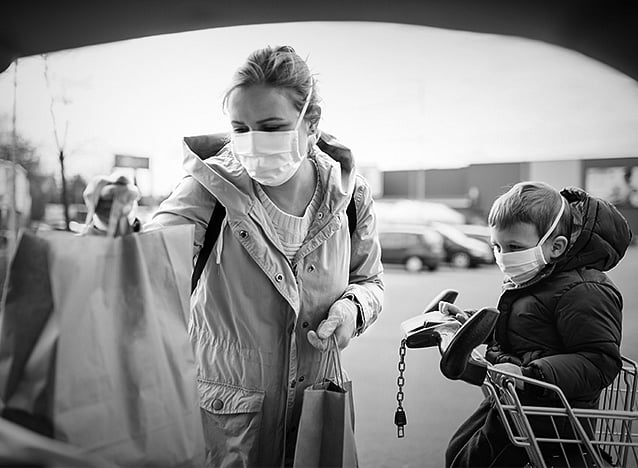 A family's practical guide to car insurance during COVID-19
Wednesday, 7 October 2020
The COVID-19 pandemic has thrust us into uncertain times and caused widespread financial strain - but your car insurance does not have to be a financial burden. Given we are living with a high level of unpredictability, now might be a good time to review your existing car insurance policies or think about taking one out if you do not already have one.
Here is what you will need to consider when reviewing or choosing a car insurance policy:
Choosing the right car insurance policy
w
hat is covered?
Car insurance quotes can differ from company to company, which is why it is recommended to compare at least three car insurance quotes before settling on one. Shop and ask around to find the car insurance that suits your specific needs best. Auto & General offers three car insurance packages:
Comprehensive Car Insurance: Comprehensive Car Insurance is our top car insurance and will cover your car for more than just third party claims if you are in an accident with another car. Any damages caused to your own car in the event of an accident will be covered too.
Third-Party, Fire & Theft Car Insurance: Third Party, Fire & Theft Car Insurance covers your vehicle for accidental damage caused to a third party as well as against theft and fire damage to your own vehicle. The main difference here is any accidental damages caused to your vehicle will not be covered.
Third-Party Only Car Insurance: Third Party Only Car Insurance is our most affordable insurance package. It is recommended for those whose car has been paid in full and that has a relatively low financial value. However, remember that any damages caused to your own vehicle by an accident, theft, or loss will not be covered.
The

value

of

your car

and

coverage
Once you have chosen the policy that you feel suits you and your family's needs, you will need to make sure that your car is covered for the correct value.
The lower the value you insure for, the lower your premium. However, it is important to take out insurance at the correct value of your car for two reasons. Firstly, the value you insure under will affect your monthly insurance premiums. Secondly, if you take out insurance below the actual value of your car and drive into a sticky situation, your insurance may not cover the full repair costs, which could cause an unnecessary hole in your pocket.
There are four different values for your car insurance – retail, trade, market, and BetterCar value. Some insurers will decide what value your car must be insured for depending on its age. With us, the value you insure your vehicle for is up to you.
Here is a quick look at the different insurance values:
Retail value: If your car is under two years old it is regarded as 'new', its retail value (also known as 'purchase value') is what could be used to determine the amount to insure your car for.

Market value: If your car is older than two years the recommended value to insure your car is its market value. The market value of a vehicle is determined by the average of the car's trade and retail values. If you are unsure, look up current prices for similar models for sale in the newspaper or online.

Trade value: The trade value is generally the lowest value you can insure for and is what a dealer will offer you if you trade your car in.

BetterCar value: If you choose this option, we will pay you out for the same model car but one year newer with fewer kilometres on the clock – in the event your car is written off.
Calculating

y

our

i

nsurance

p

remiums
With COVID-19 and the lockdown having brought many into financial trouble, you might be wondering if and how you can lower your insurance premiums. The following are the main factors that affect your premiums: Vehicle value, colour and age, type of vehicle, age, and driving experience. Bearing these in mind, here are some ways to reduce your premiums:
Practi

s

e

and maintain safe driving

: Your insurance premiums will be high if you have a record of careless driving.
Ensure

your car's safety

: Your insurance premiums will be low if you keep your car in a locked garage overnight. Any anti-theft tools also work in your

favour

when it comes to premiums.
Tell your insurer when you move

: Different addresses present different risks

,

which is why moving can affect your insurance premiums. Your premiums will decrease if you move from a high-crime rate area to a low crime-rate area.
Review often

: Keep your insurer up to date

.

Check-in with us often. If any conditions such as the ones mentioned above change, you could be eligible for an insurance premium reduction. Communicate any changes in your life that could lower the risk profile of your car to your car insurance provider.
Risk assessments conducted on your car and on you as a driver are used to calculate your car insurance premiums. The factors above determine whether you are considered a high- or low-risk on the roads and affect your insurance premiums accordingly.
Remember, car insurance claims may be rejected when you drive recklessly and cause an accident, drive drunk and cause an accident, are found to have smooth tyres, or are in breach of your contract.
Lower premium vs. lower excess
If you have an emergency fund saved, opting for a lower premium and a more expensive excess could mean you will be able to afford a higher-than-usual fee in the event of an accident.
On the other hand, if your financial situation is more precarious, pay a bit extra each month for your premium so that if you need to claim, there will not be an excess to pay beyond your means.
Insurance broker vs online quote
So, you have reviewed your existing premiums or you are ready to get a car insurance quote, but require some advice before clinching the deal. Did you know that going through a broker versus getting an online quote can have different cost implications?
If you are unsure about anything, the best advice is to contact your insurer and consult with them on a quote. Make sure you have all the information you need before signing any policy application. If you are reviewing your premiums, find out whether there is a chance they could be adjusted, especially during these tough times.
When insuring your car, it is always a good idea to find out if your insurance company goes the extra mile for you. For instance, at Auto & General, we offer a range of benefits from road-side assistance to a cash-back programme. Auto & General App: The Auto & General App consolidates all your insurance information safely in one place. Use your fingerprint or facial recognition to access your policy details and documents. The app also has a built-in 'impact detector' called AutoSOS, which you can get if you have Comprehensive Car Insurance. The app sends your location to emergency services when a high impact is detected.
You can also request emergency medical and roadside assistance at any time.
Assist Benefits: If you are insured under Auto & General's Comprehensive Vehicle Insurance policy, Third Party, Fire & Theft Vehicle policy, or Off-Road Comprehensive policy, you can enjoy the Breakdown Assistance and Accident Assistance benefits. Breakdown Assistance, which has an annual limit of three call-outs per insured vehicle, comes with a suite of benefits. This includes towing and flat tyre repair and emergency fuel delivery of up to 10 litres. Accident Assistance has no limit for accident towing and includes a towing service to the nearest approved panel beater/yard after an accident along with collision procedure advice. All assistance-related benefits can be accessed 24 hours a day, 7 days a week, 365 days a year by calling 0860 10 42 10 from any cellular phone or landline.
Cash Back Plus: At Auto & General, you can add Cash Back Plus to your car cover policy. With this benefit, if you do not claim for four consecutive years, you are eligible for a payout of either your entire first year's premiums or up to 25% of all your premiums paid over those four years, whichever is the lesser. During this uncertain time, having an insurance policy that puts your mind at ease with an experienced insurer is one of the biggest benefits of having an insured vehicle.
It is important to understand car insurance so that you can make an informed decision when reviewing or choosing a car insurance policy to suit your needs. Insurance can provide protection and in turn, the confidence that all parties involved will be taken care of no matter what happens.
Prices quoted are correct at the time of publishing this article. The information in this article is provided for informational purposes only and should not be construed as financial, legal, or medical advice.
---
10 Social Distancing Friendly Picnic Spots in South Africa