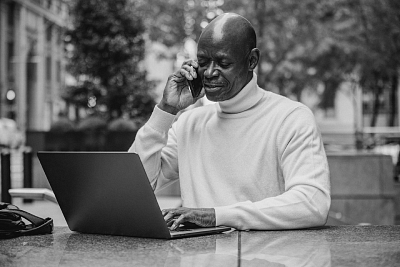 A 5 step guide to life insurance for parents
Monday, 28 March 2022
We know just how unpredictable life can be. That's why you can rely on companies like us to help you prepare for any eventuality.
More than R17 billion remains unclaimed by the beneficiaries of life insurance policies and trusts.
It's your responsibility to maintain the policies you hold and ensure that your chosen beneficiaries have the correct information should they ever need to claim.
In this 5 step guide to life insurance for parents, we explain what you need to do to ensure your benefits go to your deserving loved ones.
Contents:
Make your beneficiaries aware of your policies

Keep your policies in a safe place

Share how you would like the funds spent

Share the details with your beneficiaries

Schedule an annual review
Make your beneficiaries aware of your policies
Instead of leaving your relatives and loved ones the job of sorting through your paperwork, make them aware of the policies you have. These could include:
Group benefits with employer

Pension funds and retirement annuities

Investments
Important to note: Advise your insurance beneficiaries of any exclusions or waiting periods that you may have on your policy. You will be able to find these in your policy schedule.
Keep your policies in a safe place
It goes without saying that wherever you choose to store your documents, make it a safe place and ensure your beneficiaries know where it is. We also recommend sharing this location with any personal advisors or attorneys.
Your policy documents are essential, so we suggest keeping both paper and digital copies where you can.
Create an instruction sheet if you want to go the extra mile and ensure a smooth policy or life insurance claim process. The document should include all the critical information, such as the policy number, identification documents for the beneficiaries, contact details for your chosen provider and any other vital information, such as historical policy changes. A simple one-pager is an effective way to assist your relatives in what could be an incredibly stressful time in life.
Share the details with your beneficiaries
After completing the first steps listed above, talk the claims process through with your beneficiaries.
Some policies may require attaining documents such as doctors' notes or specialists' reports in the event of a claim. What can be a complex process doesn't have to be if you do the initial research first and relay your findings.
If your policy is with Auto & General, our helpful team are always on hand to assist and answer any questions you or your beneficiaries may have.
Tips for young beneficiaries: Talking through the claims process may not be suitable depending on the age and situation of the receiving beneficiary. We recommend you employ a professional to do so when the time comes or create a short video explaining the life insurance claim process yourself.
Share how you would like the funds spent

The reasons why individuals take out a particular policy will differ. Some parents may want their bond paid, whilst others want their children's educational fees covered. Whatever your wishes, make sure to update your beneficiaries.
For careful budgeters: Many people don't wish for overspending on funerals. If you have a limit in mind, make this detail clear in your funeral policy.
Schedule an annual review
If you have added or removed beneficiaries, increased cover or taken out an extra benefit, keep your family in the know. Not only does this clear up any questions, but it also ensures that they know who can claim and for what. We recommend scheduling an annual review of all your policies and updating the instruction sheet with any changes.
Where to find the best life insurance policy for parents?
With over three decades of experience, Auto and General offers the best life insurance in South Africa. Get in touch with our helpful team today and let us give you added peace of mind.
Auto & General Insurance Company is an authorised non-life insurer and financial services provider. Long-term policies are underwritten by 1Life Insurance Limited, an authorised insurer and financial services provider.
---
Car Insurance & Vehicle Finance Guide: What You Need to Know?