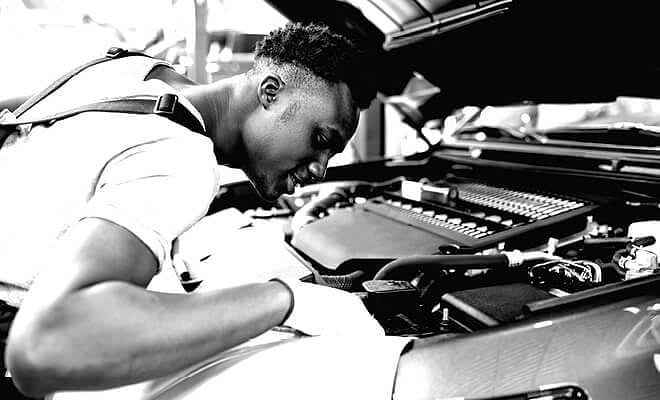 Winter car care advice
Tuesday, 15 June 2021
As the temperature across the country starts to drop, we know you'll be thinking about your safety on the roads. That's why you can rely on us to help you prepare your vehicle for winter. Whether you experience cold air, rain, snow or frost, the colder weather can take a toll on tyres, batteries and braking systems. Be ready by following this winter car care advice.
1. Check your battery
Car batteries are known to give more hassles during winter. Rather than getting stuck on a frosty or rainy morning with a flat battery, do the following:
- Check the water level. If it's too low, top it up with distilled water.
- Give the terminals a clean with warm soapy water to remove any acid or dirt build-up.
- Make sure the battery is securely in place.
- Charge it regularly, especially if you only do short trips. Take your car for an hour's drive to charge the battery and maintain its lifespan.
- Switch off the air-con, radio, lights, seat warmers, windscreen wipers and demisters when you park your car for the night.
- Check your alternator belt for fraying or cracking.
- Keep your car's service history up to date.
2. Inspect your tyres
When the roads are wet, snowy or icy, worn tyres are extremely dangerous. Always ensure your tyres are in a good condition. Check the tread. Under South African law, tyre tread must be at least 1.6mm deep. Some tyres have indicators, however if you're unsure, rather have them checked by a professional.
3. Test your lights
With longer nights and shorter days, many of us will have to commute in the dark. For this reason, your car's headlights, brake lights and indicators must be working properly. Test them regularly and remember to always switch your lights off when you reach your destination.
4. Maintain your windscreen and wipers
A windscreen that is glare-free, not cracked and clean will enable you to see clearly. Before getting into your car in the morning, make sure that any frost is removed. Don't pour hot water over it as this could crack your windscreen. Instead, remove the ice with a scraper. Then use the demister to clear your windscreen from the inside.
It is also important to check the condition of your windscreen wipers. In some areas of our country, winter brings rain. Make sure that your wiper blades are working properly and if they aren't, replace them.
5. Get cover you can rely on
Even with all these checks, the unexpected can still occur. Protect your vehicle with the right insurance cover. With Auto & General Car Insurance, you can be ready for whatever winter brings.
---
Prepare your home for winter