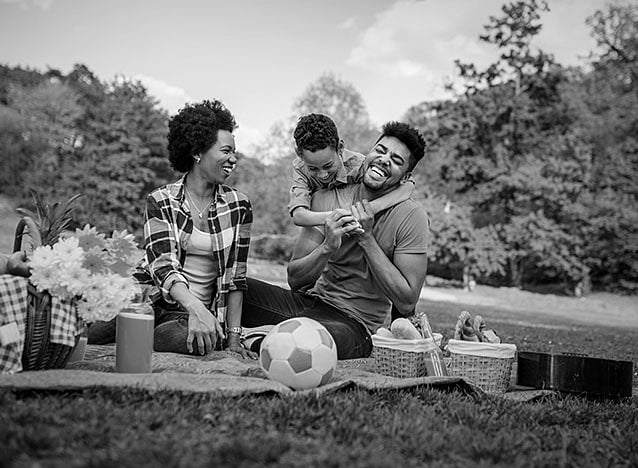 10 Social Distancing Friendly Picnic Spots in South Africa
Wednesday, 23 September 2020
"The great outdoors" is no longer just an English idiom, going outside is truly GREAT.
A lot has changed in the past couple of months, however, what remains constant is that human beings are sociable and need relationships with others. As we cultivate these relationships, we need to do so in a way that not only protects us but also protects others.
With restrictions easing and our country now sitting at alert Level 1, spending time with family which let's be honest has been a scarcity in 2020 is a much-needed activity.
While we enjoy the great outdoors once again, let's remember to be responsible by sanitising, washing our hands, mask-wearing, and maintain social distancing.
Now how does a picnic with your favourite people and your favourite nibbles sound?
Here are 10 places you can place your blanket, pull out a picnic basket, and feel the breeze.
GROUND – Gauteng

Earthy, Rooted, Organic.

Less than an hour away from the City of Gold sits an oasis rightfully named GROUND. A stone's throw away from the Cradle of Humankind, this venue offers a variety of picnic packages and is children and pet friendly.

(link) https://www.groundthevenue.com/

Warick Estate – Western Cape

With lush green lawns that go on forever and picturesque views

This Stellenbosch winery is the stuff that picnic perfection is made of. Choose to picnic under an umbrella on the lawn, by the water, or in one of the estate's specially designed picnic pods. You will be spoiled for choice with their gourmet picnic basket options.

(link) https://www.warwickwine.com/wine/

Durban Botanical Gardens – KwaZulu-Natal

Old but still Gold

The oldest public institution in Durban and Africa's oldest surviving botanical garden. The Durban Botanical Gardens is a gem. Boasting rare plants, exquisite orchid, cycads, and palms. A picnic here, under the ever-glorious Durban weather, is nothing short of spectacular.

(link) https://durbanbotanicgardens.org.za/

Willow Feather Farm – Gauteng

Let's Go Back To Simpler Times

This treasure situated on the outskirts of Centurion is an ode to simpler times – the kids will love this one. You can bring your picnic basket filled with your favourite nibbles and relax while the kids play along with farm animals including sheep, miniature cows, potbelly pigs, ducks, and geese.

(link) https://willowfeather.co.za/

Addo Elephant National Park – Eastern Cape

Experience natures splendor and a world of diversity in one park

The third-largest national park in South Africa has expanded to conserve a wide range of biodiversity, landscapes, fauna, and flora. There is a picnic and braai sites at main camp and in the botanical reserve's Jack's Picnic site off the southern access road.

(link) https://www.sanparks.org/parks/addo/

Lowveld National Botanical Garden – Mpumalanga

The junction of the Crocodile River and the Nels River

As one of the nine National Botanical Gardens of South Africa, this scenic spot is home to rare plants and a glorious waterfall. Pack your picnic basket and be mesmerised by mother nature.

(link) https://www.sanbi.org/gardens/lowveld/

The Diamond Coast – Northern Cape

A precious stone

For those who love taking the road less travelled, this diamond mining area is filled with rare gems, from untouched beaches along the coast to traditional small villages. You are sure to find beautiful scenery and perfect picnic spots overlooking the ocean.

(link) https://thegrowcery.co.za/places-of-interest/diamond-coast/

Oliewenhuis Art Museum – Free State

A collector's piece

Located in one of the most magnificent gardens in the city of Bloemfontein, this national museum was once the official residence for the State Presidents of South Africa during official visits to the city. Surrounded by lush lawns and pieces of our history this location offers several picnic spots.

(link) https://nasmus.co.za/oliewenhuis-introduction/

Debengeni Falls – Limpopo

Think picture-perfect, think pure

The waterfall is a tranquil example of the untouched, and untainted appeal of the Limpopo Province. With a stunning backdrop of waterfalls and a prime spot for bird watching, The Debengeni Falls is a picnic sanctuary.

(link) https://www.sa-venues.com/attractionslm/debengeni-falls.php

Pilanesberg National Park - North West Province

Home of the big 5

With over 7000 animals including the Big 5, 360 bird species, and more than 200 kilometres of roads the Pilanesberg National Park is the fourth largest park in South Africa. Feel like you're on a Safari while you snack on your favourite treats and take in the magnificent views.
---
How to Recession-Proof Your Investments