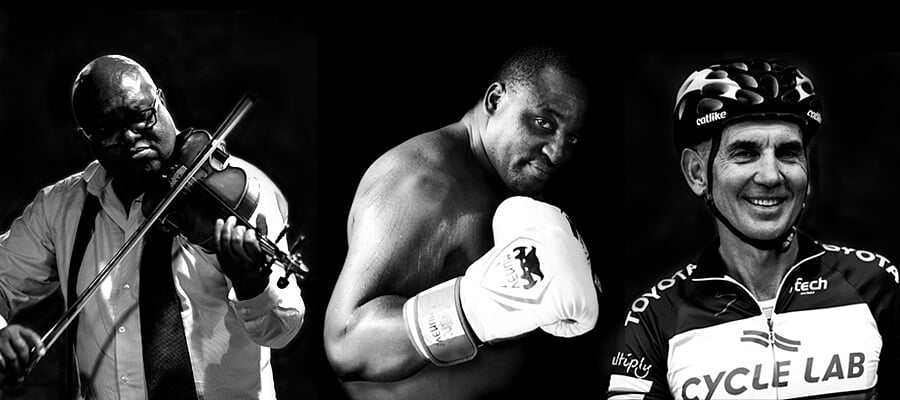 what experience looks like
Monday, 10 April 2017
What does it mean to be experienced? What exactly does experience look like? At Auto & General, experience means learning from the past, turning challenges into opportunities, using every lesson to help us become better at what we do.
For us, experience is more than just another accolade; it is what defines us as an insurance industry giant. It enables us to constantly improve our products, to deliver exceptional service and to keep our clients' trust. And because we value experience, we have gathered stories of individuals who have used their experience to reach the pinnacle of their various fields.


"Talent without hard work is insufficient." – Thami Khemese, Professional Violinist
From a young age, Thami has always understood the importance of hard work and dedication while pursuing his dream of becoming a successful violin player. After years of practice, the Soweto String Quartet has become one of South African's most successful classical ensembles to gain international fame. Throughout this extraordinary journey that he continues to travel with his fellow musicians, Thami has learned that without risks, there will be no rewards. See what experience looks like to him in this video
Just as it has taken Thami many years to perfect his art, we at Auto & General have used our 32 years of experience in the insurance industry to perfect our product offerings and the journey that all clients go through when they need our help the most.


"If you work hard enough, you will be successful." – Andrew McLean, Expert Cyclist
Not everybody is able to take an incidental sport course and turn it not only into a professional career, but also into a successful business. Andrew McLean did just that. As his story goes, the mistakes he made improved his mental tenacity which enabled him to work hard enough to become an internationally renowned cyclist and business man. To find out what experience looks like to Andrew, watch this incredible video
In the same way that it took Andrew a few mistakes to mould his experiences, we at Auto & General have relied on our mistakes to guide us in developing class-leading product to provide our clients with meaningful experiences when they turn to us for assistance.


"I learned from boxing that you must be ready for anything." – Commando Kalekuzi, Fearless Boxer
A combination of tenacity and experience - that's what characterises Commando Kalekuzi. He did not allow growing up poor in a village in the Congo to stand between him and a Continental Championship belt. Instead, Commando realised from a very young age that being a champion is a personal choice and that realisation is what gave him the discipline to push himself further and further with each fight in the ring until her became a household name in the African boxing scene. In this video, Commando shares more life lessons on what experience looks like to him: watch the.


At Auto & General, we regard ourselves as a true giant in the insurance industry with decades of experience behind us. Just like Commando, we have pushed ourselves harder and harder with each passing decade to bring our clients the absolute best in insurance products.


We believe that everyone deserves the best in life; that's why we've taken almost 32 years to refine our insurance product offerings so that every single clients benefits from our experience. If you'd like to have one of South Africa's leading insurance companies on your side today, visit our website or give us a call on 0861 00 12 73 today to find out exactly #whatexperiencelookslike.
---
Be prepared for a tropical cyclone