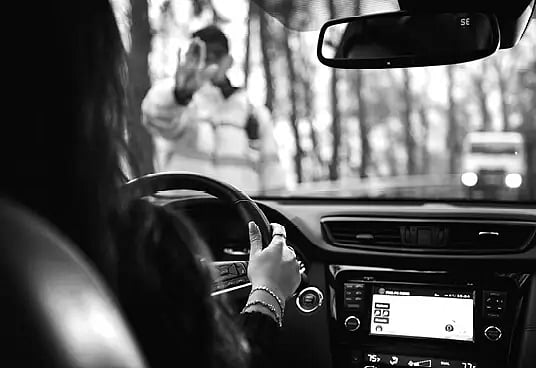 All you need to know about roadside assistance & how to get it
Thursday, 3 March 2022
The worst possible time you could type "rapid roadside assistance near me" into Google is when you're already stranded at the side of the road. If you're living in South Africa, roadside assistance is more than a convenience - it could save you from becoming a victim of crime.
This article explores why you need roadside assistance, what to look out for when choosing a service and how Auto & General roadside assistance fits the bill.
What is roadside assistance?
Simply put, it's a service that assists drivers in the unfortunate event that their car has broken down on the road. If your vehicle stops driving for a mechanical or electrical reason, a breakdown assistant will be dispatched to your location.
Assistants can usually solve simple issues such as flat tyres, empty tanks or keys locked in your car there and then. However, if the problem is more complex and requires further expertise, assistants will most likely tow your vehicle to the nearest dealership, garage or petrol station. But, don't worry, you won't be left behind! Car insurance with roadside assistance will often give you the option of onward transport to your planned destination. It depends on what you need at the time and also depends on the service you chose. Most importantly, roadside assistance will get you back on your way in no time.
How long does roadside assistance take?
Standard roadside assist services operate using an emergency line to contact 24 hours a day for help. How long it takes for them to reach you will depend on your location.
What does roadside assistance cover?
Expert roadside assistants are usually qualified mechanics who can resolve minor automotive issues right there on the roadside. If the reason for your breakdown is more complex, a roadside assistant will likely tow you to a dealership or garage. You'll be back on track as quickly as possible and removed from what could be a vulnerable situation.
Why do you need roadside assistance?
By now, you'll know what a standard South African roadside assistance service offers you. Here are some of the other benefits it provides that you might not have considered:
On-call directions: Most drivers take a GPS when driving in an unfamiliar area. These applications aren't always accurate, and sometimes, and we've all been there, you may even end up lost. In this situation, roadside assistance offers telephonic support, helping you get back on the right path as soon as possible.

Friends and family notifications: When your car breaks down, it often happens when you're on route to an event or destination. When dealing with the stress of a rapidly dwindling phone battery and a car that's refusing to start, it's easy to forget that someone is expecting you. Roadside assistance services can provide a notification to friends and family letting them know what's happened and how long you'll be.

Time to organise repairs: Let's face it, breakdowns rarely happen when it's convenient. You might find that your car has broken down when you're far away from your preferred automotive repair shop or an authorised dealer. Some South African roadside assistance services will tow your car to a secure storage facility giving you the time and space to arrange for its transportation.

Trustworthy referrals: You might not know who can or should assist you with a particular car issue when your car isn't working as it should. To avoid causing any further damage or voiding your car's warranty, many roadside assistance services can refer you to a make and model specialist you can trust.
What to look out for when choosing South African roadside assistance?
In South Africa, roadside assistance offerings can vary and not all of them are equal. If you've selected the best car insurance with roadside assistance built into it, you might also assume you're fully covered for any eventuality. To avoid disappointment, make sure you ask the following questions from a current or potential roadside assistance provider:
1. What are your callout limits?
Many roadside assistance providers limit how many call-outs you can make per insured vehicle. Ideally, you should be able to call for assistance at least three times. Make sure you know your limits.
2. Does your assistance cover call-out fees and labour?
When you need in-person assistance at your location, the person assisting you will charge you a fee to come to you. They might charge you separately for their labour, which can take an hour or much longer. Make sure your roadside assistance provides cover for both.
3. Will my guests be assisted?
You might be travelling with other people when your car breaks down. Your roadside assistance provider should be able to transport the people affected (with a reasonable limit) and provide them with accommodation should there be an overnight delay.
4. What happens if I have an accident?
Whether it's a fender bender or something more serious, having a car accident can be traumatic and stressful. Make sure your choice of roadside assistance offers specialised advice on how to proceed in an accident, as this can impact your liability or help you avoid breaking the law. It also means that should you have an accident you won't be talked into using a tow truck service that just happened to be in the area — that could cost you an arm and a leg.
Some roadside assistance providers take things one step further. Auto & General roadside assistance comes with a complimentary phone application that when downloaded, can send out an automatic SOS in the event of a severe car accident.
Where to get a quote for Auto & General roadside assistance?
Now that you know more about roadside assistance, you won't be searching "roadside assistance near me" anytime soon. If you choose Auto & General roadside assistance, you can get the comprehensive cover you need - with a range of benefits. To learn more about our trusted service, request an obligation-free online Auto & General road assistance quote today.
---
Auto & General Is Voted As The Best Of The Best